VIB-40.5 Series of Indoor High Voltage Vacuum Circuit Breaker With Embedded Poles
---
VIB-40.5/T type indoor high voltage indoor vacuum circuit-breaker is used for switchgear KYN6140.5(Z).It's the most new type of power supply and distribution equipment.This product is in accordance with GB1984-2003 standard
Interruptores de vacío de alta presión

VIB-40.5 Series of Indoor High Voltage Vacuum Circuit Breaker With Embedded Poles
---
● General Description
VIB-40.5/T type indoor high voltage indoor vacuum circuit-breaker is used for switchgear KYN6140.5(Z).It's the most new type of power supply and distribution equipment.This product is in accordance with GB1984-2003 standard.
● Structural characteristics
This kind of VCB adopt integrated design and is different from open-type vacuum circuit breaker and insulation vacuum circuit breaker:
The vacuum interrupter and conductive circuit fitting with ring raises resin through the special craft are sealed into a pole.
Then with the modularized circuit assembled in modular circuit breaker.
This kind of VCB with excellent electrical&mechanical properties and represents the advanced level of the
● Technical Characteristics
The design of this kind of VCB takes into account the Chinese market and special areas requirements,making the vacuum interrupter and conductive circuits into a embedded pole by the advantage of the solid insulation and advanced technology of APG.This not only simplifies the pole assembly process and prevent the vacuum interrupter circuit conductive connecting bolt to run the vibration as a result of loose,but also improve reliability and avoid the effect of external mechanical force and ambient conditions(such as dust,humidity,nasty,high sea level,animal),and avoid the potential risk of vaccum interrupter operating in adverse environments caused by insulation and then lead to a lower level of vacuum circuit breaker in the sub-gate under vacuum interrupter surface elastomer.Therefore,within the service life of the circuit breaker,the pole is completely maintenance-free.The circuit breaker's
● Applying ambient conditions
Ambient temperature:-15℃~+40℃,the average temperature is not more than 35℃in 24 hours.
The height above sea level:≤1000m.
Relative humidity:the average humidity of a day should be no more than 95%;the average humidity of a month should be no more than 90%.
Saturated vapour pressure:the average pressure of a day should be no more than 2.2kPa;the average pressure of a month should be no more than1.8kPa.
● VIB-40.5 Mechanical Capacity Specification
● VIB-40.5 Mechanical Capacity Specification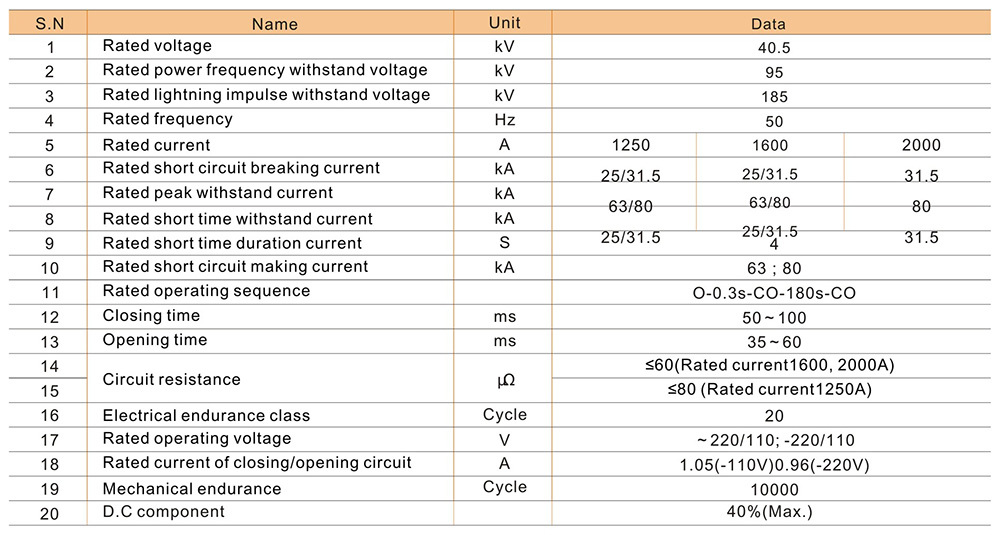 ● Following information is required for order
1.For VCB Truck:
Full type name, rated current, rated short circuit breaking current.
If the matched primary system of switchgear with or without earthing switch
Rated voltage of operating circuit.
Name and quantity of spare parts and components.
Other special requirements for VCB
2.For isolation truck:
Full type name, rated current.
3.For fuse truck:
Full type, name and quantity
Type and quantity of fuse.
● Overall outline drawing
● Typical wiring diagram of the second principle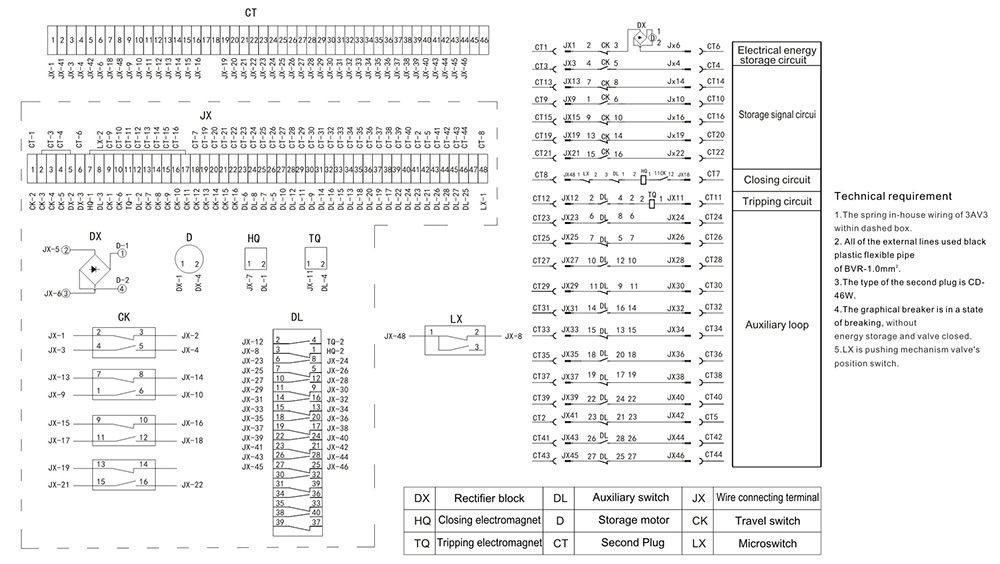 Productos relacionados
Compartir patentes nacionales de invención con el interruptor Longxiang
---
Mensajes en línea
* nota: asegúrese de completar la información con precisión y mantener la comunicación fluida. nos pondremos en contacto con usted lo antes posible.